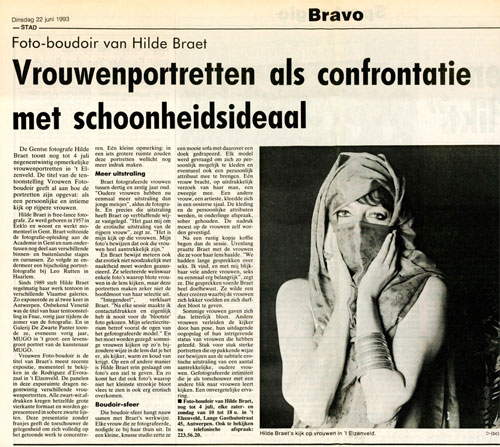 Mijn sluimerende interesse voor fotografie ontpopte zich in de jaren 1980. Ik volgde cursus aan de Koninklijke Academie voor Schone Kunsten. Ik was niet zo zeer getriggerd door het technische aspect van dit medium noch door mooie plaatjes an sich. Eerder wou ik verhalen vertellen, verhalen die moeilijk te vatten zijn met woorden Zo wou ik aantonen dat rijpere vrouwen ook aantrekkelijk en erotisch zijn als reactie op de vele beelden van jonge meisjes die bijvoorbeeld anti-rimpelcrèmes

presenteren, als reactie op het passe-partout-model van de modewereld. Beelden zijn immers krachtiger dan woorden. De uitspraak: "Rijpe vrouwen zijn ook erotisch", kan banaal klinken. De spreektaal, de niet-artistieke taal waarbij zo'n statement gemaakt wordt - een ethische vraagstelling - komt vaak banaal over. Deze banaliteit kan overstegen worden met een literaire, filosofische invulling, met poëzie en ook met krachtige beelden die deze vraagstellingen versterken. Mijn eerste tentoonstelling die deze visie belichaamde was dan ook "Vrouwen-fotoboudoir", in het Elzenveld, toen Antwerpen culturele hoofdstad van Europa was in 1993. Na al die jaren van foto-praktijk die gepaard gaan met het voortdurend bij studeren en reflecteren over het medium heb ik de behoefte om een deel II aan mijn website toe te voegen: "Studium/Punctum". Dit belicht mijn inhoudelijk werk, het waarom van mijn fotografie, mijn drijfveer en mijn passie. Deel I en deel II wensen een SYNERGIE te zijn in de zin van 1+1= 3. Het proces van het tot stand komen van beelden en het reflecteren erover leidt tot meer inzicht, diepte en inhoud van het fotografische beeld.
My dormant interest in photography emerged in the 1980s. I followed a course at the Royal Academy of Fine Arts. I was not so much triggered by the technical aspect of this medium nor by beautiful pictures an sich. Rather I wanted to tell stories, stories that are hard to grasp with words. For example, I wanted to show that mature women are even attractive and erotic as young girls presenting anti-wrinkle creams and being the passe-partout models of the fashion world. Images are more powerful than words. The statement: "Mature women are also erotic" can sound banal. The spoken language, the non-artistic language in which such a statement is taken - an ethical question - often comes across as banal. This banality can be transcended with a literary, philosophical interpretation, with poetry and also with powerful images that reinforce these questions. My first exhibition that embodied this vision was "Women's photo boudoir", in the Elzenveld, when Antwerp was the cultural capital of Europe in 1993. After all those years of photo practice and a never-ending research and reflection on the medium, I feel the need to add an additional part to my website: "Studium/Punctum". This highlights my substantive work, the why of my photography, my motivation and my passion. Part I and part II will show a great SYNERGY in the sense of 1 + 1 = 3. The process of creating images and the way of reflecting on them leads to more insight, depth and understanding of the photographic image.